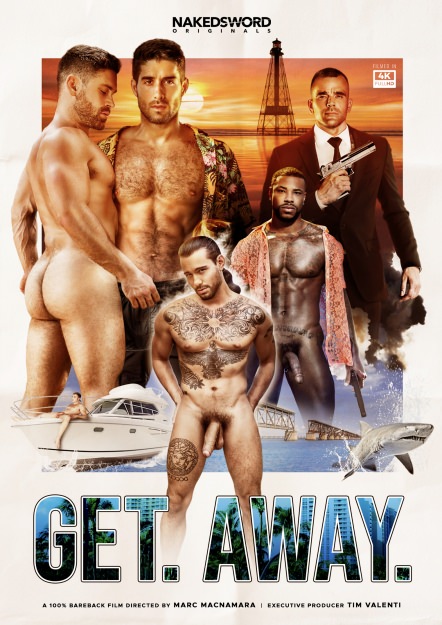 Video Description:
Beau Butler and boyfriend Diego Sans are joined by their best friend
Michael Boston
on a tropical getaway. The trio grab their rental car and head out for their house. After a dramatic meeting on the side of the road,
Reign
invites his new roadside friend Michael Boston for a day out on his boat instead. Without hesitation, Michael opts for the boat ride. They reach an old, abandoned lighthouse in the middle of the ocean -- Reign shares a local legend that there is a gold-plated conch at the bottom and if you give it a rub, you'll have the best sex of your life. Without hesitation, Michael jumps into the crystal waters in search of the conch before Reign can warn him about the sharks circling the area. But nothing will stand (or swim) in the way of a horny Michael Boston! He quickly retrieves the conch and sets out to prove the legend to be true. Michael pulls himself back on the boat and drops to his knees, deepthroating Reign's long cock. Now that he's rock-hard, Reign eats out Michael's ass on the stern of the boat before sliding his raw cock deep into Michael's smooth hole. They rock the boat hard in missionary before they stop for a brief 69 break. When they are ready, the guys move to the boat's bow where Michael hops on top and rides Reign. While Reign fucks up into him, Michael strokes his dick until his cock erupts with thick ropes that fly all over the boat. When it's Reign's turn to finish, he jerks his load right into Michael's hungry mouth. Now that Michael is satisfied, he jumps back into the water to return the conch shell. As swiftly as Michael jumps back into the shark infested waters, Reign starts the boat and drives away leaving Michael stranded at sea. This getaway is not all that it seems...
You Might Also Like these videos...