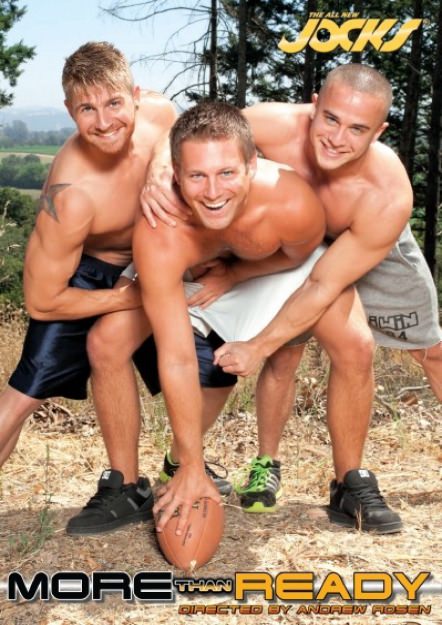 Video Description:
Tossing a football leaves the t-shirts of athletic
Logan Vaughn
and
Alex Graham
stainedwith sweat. They douse themselves with water, which clearly turns them on considering thetents in their shorts. Alex breaks an awkward silence by confessing to Logan, "I've beenlooking at your butt all day," so Alex shows him the full Monty. In goes a finger, then atongue. Alex's phone falls onto the deck and accidentally calls
Bobby Clark
, who's in bedupstairs. He listens, stroking along with action on the porch, until he just has to rundownstairs and join them. Alex's face and fingers are buried in Logan's ass when Bobbyarrives, and Alex offers Bobby a taste. Logan kneels to suck Bobby's handsome cock, andBobby grabs the post in Logan's tongue and jams it all the way into his piss slit. It's a jockmeat free-for-all as these hunks open their mouths and their holes wide for each others'rampant cocks. A sandwich fuck gives Alex a chance to fuck the hole he ogled all morningwhile getting his own ass buzzed by Bobby. Logan grabs a quick ride on Bobby's cockbefore they all burst, leaving Bobby's tanned and furry chest matted in spooge.
You Might Also Like these videos...